If you have any information about these crimes or any person(s) involved, you are urged to call Crime Stoppers at or submit a Web Tip . You do not have to give your name. CRIME STOPPERS will pay a cash reward of up to $1000 and you can remain anonymous.
Denville Shoplifting
August 29, 2022
On Saturday, 8/20/22, at 4:18 PM, the suspect below shoplifted approximately $680.00 worth of razors from the CVS in Denville (267 East Main Street). The suspect then made his way to the Walgreens in Denville (22 West Main Street) and attempted to shoplift several more items. While inside the Walgreens, an employee confronted the suspect and chased him out of the store. The suspect was then seen getting into the rear passenger side of a silver/beige four door sedan believed to be an Uber/Lyft. It is also believed that the same actor was involved in similar shoplifting incidents throughout the state.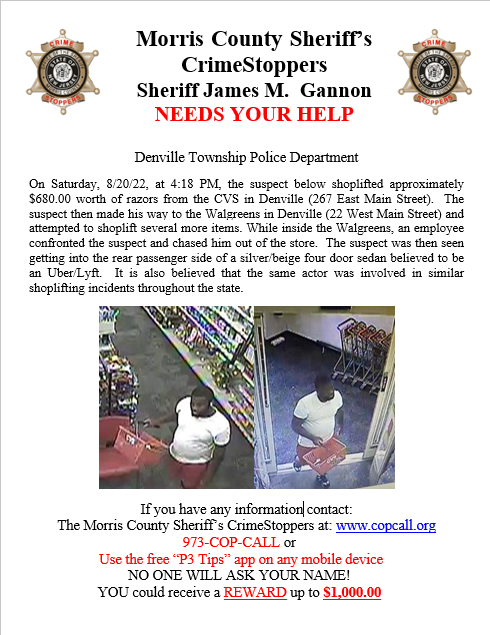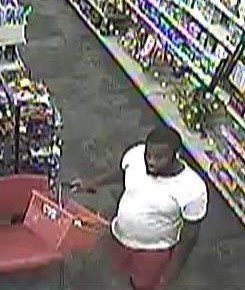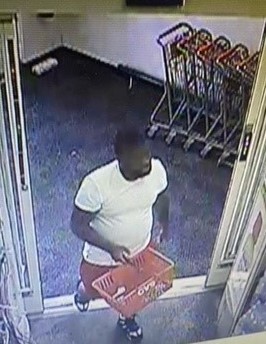 ---
Morris Plains Burglary
August 04, 2022
On August 2, 2022, the Morris Plains Pharmacy, located at 1745 Route 10 East, was burglarized by the above male. At 04:53 hours, County dispatch sent officer to the above address for a rear door alarm activation. When officers arrived, the rear locking cylinder to the back door was removed and the door was unsecured. A check of the inside of the pharmacy, by responding officers, revealed nothing disturbed and a later check of the video surveillance showed the above suspect in the store. It appears that once the suspect enters, he attempted to locate medication. He uses what appears to be a vice-grip type tool to remove the locking cylinder before going inside the pharmacy.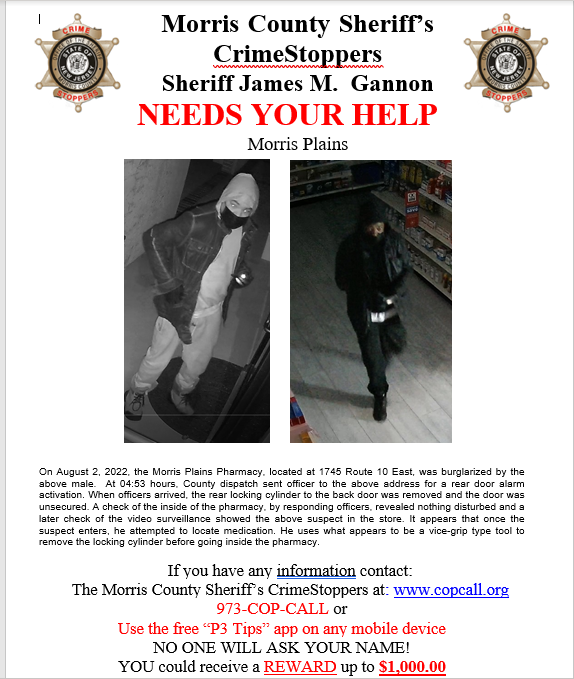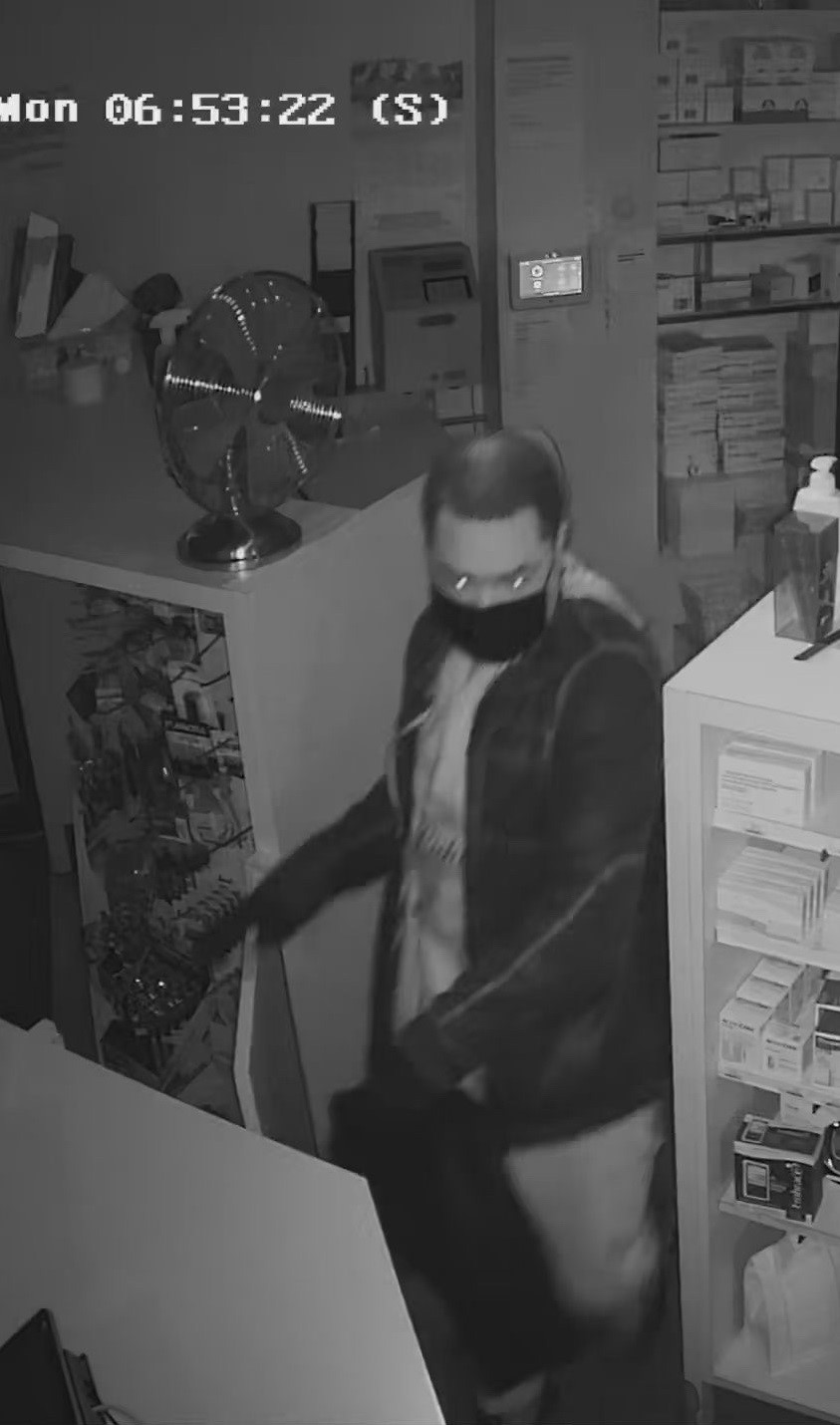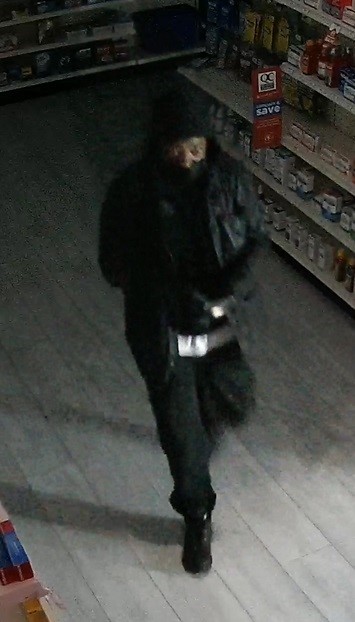 ---
Morris Plains Burglary
August 02, 2022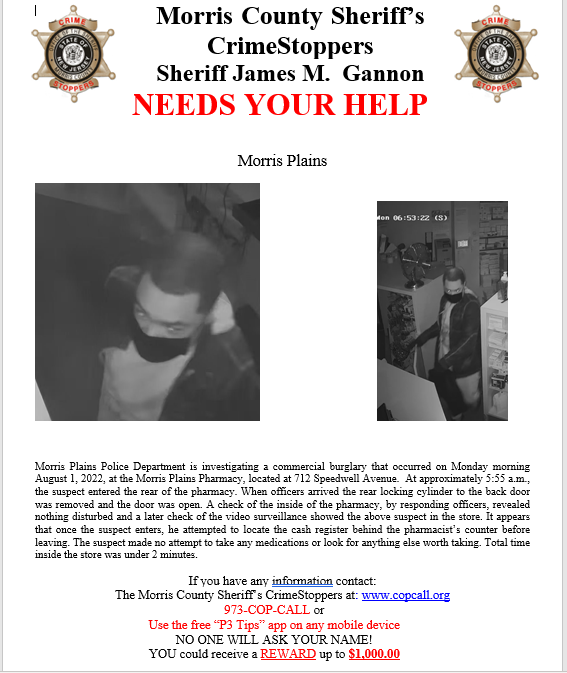 ---
Denville Township Criminal Mischief
July 14, 2022
---
Morris Plains Burglarly
July 05, 2022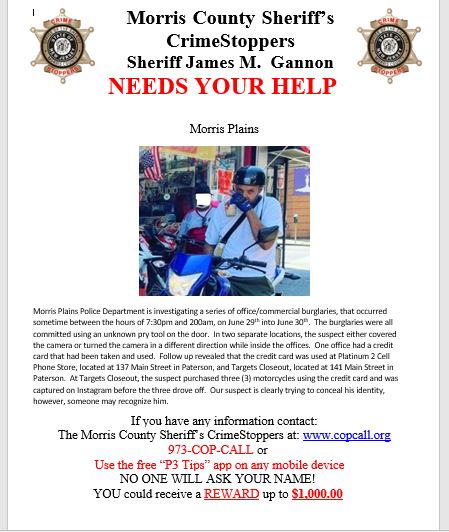 ---
MCSO Sexual Assault
May 05, 2022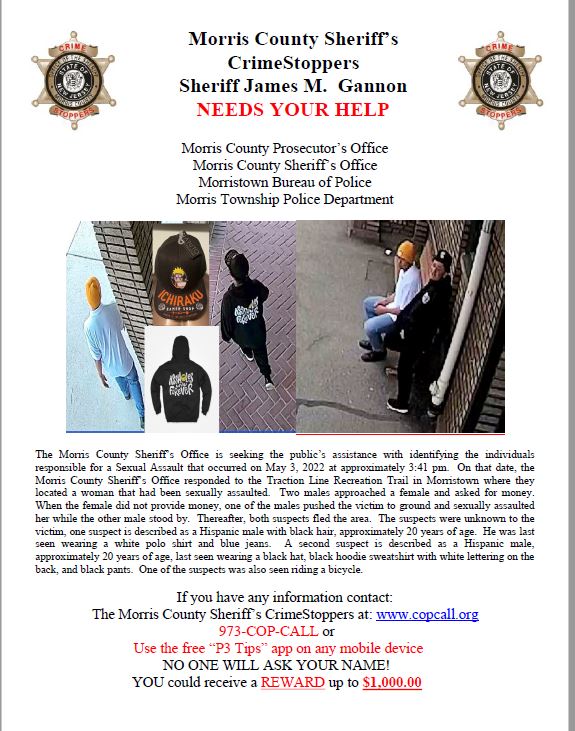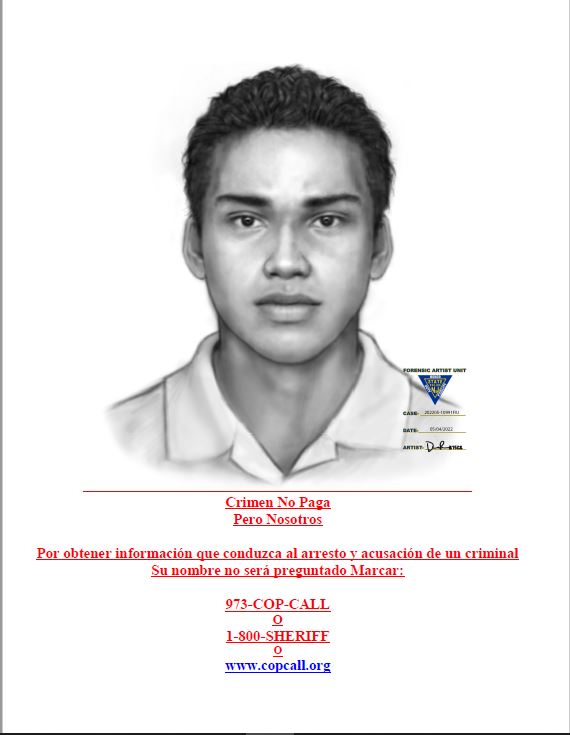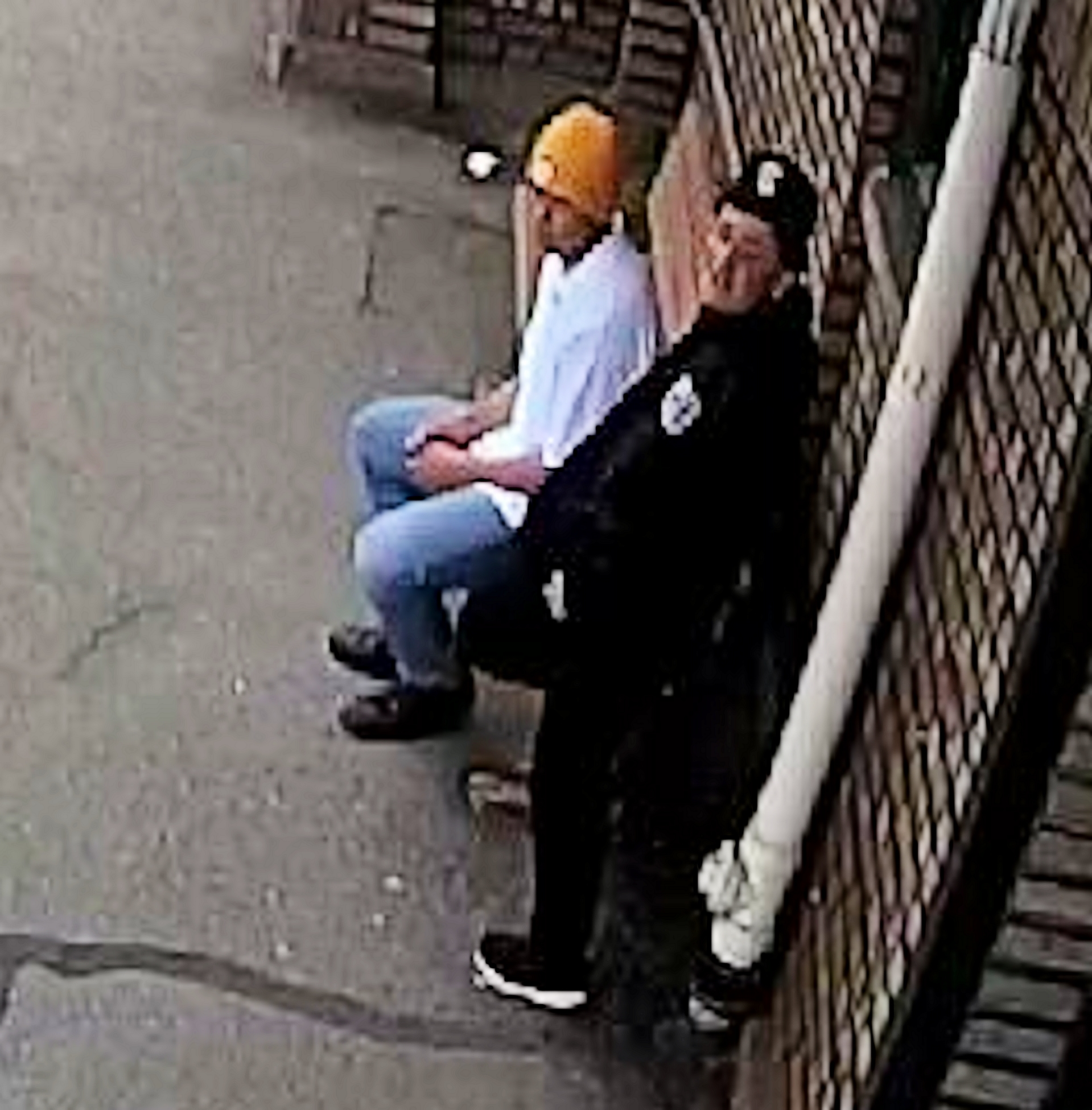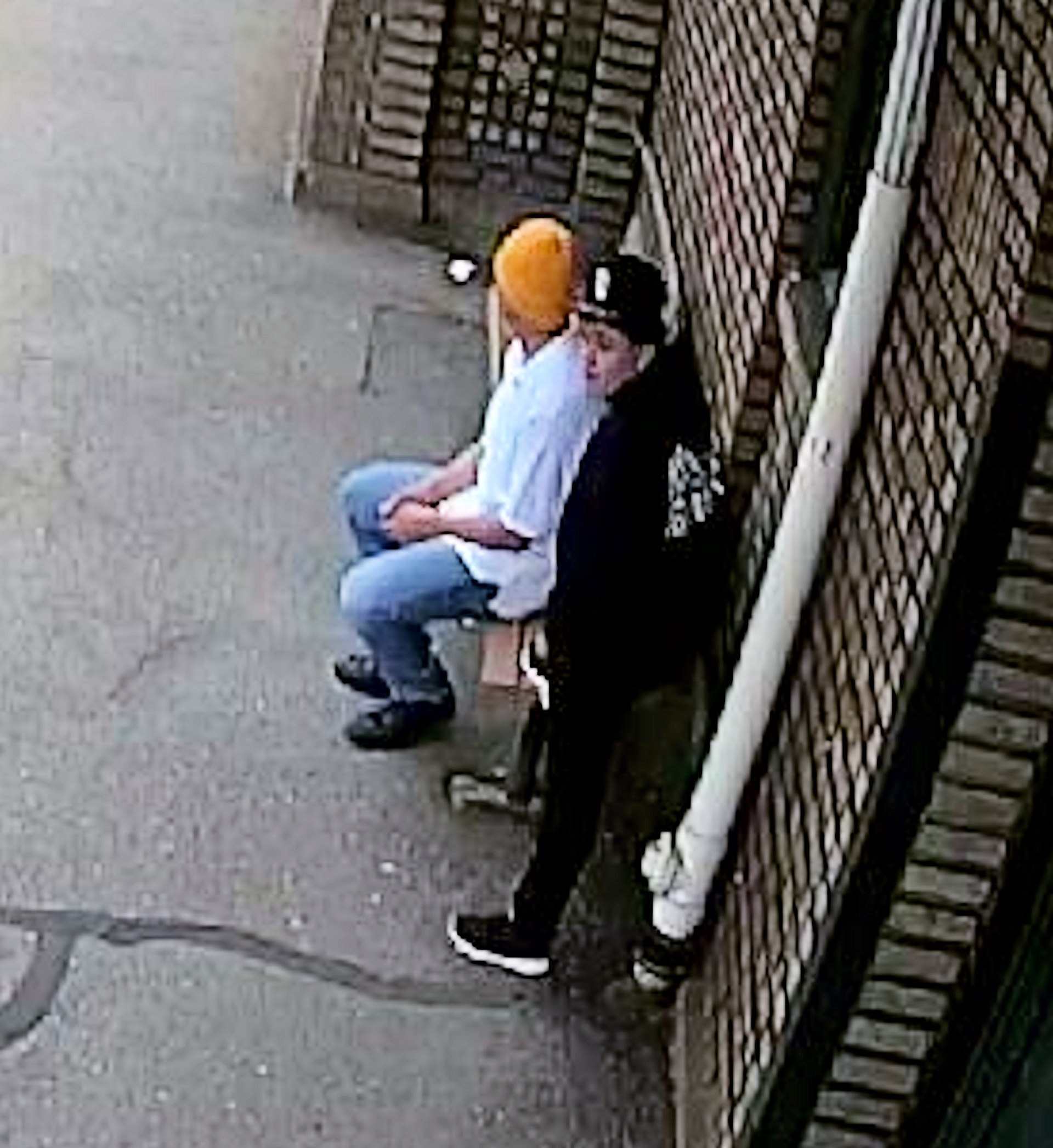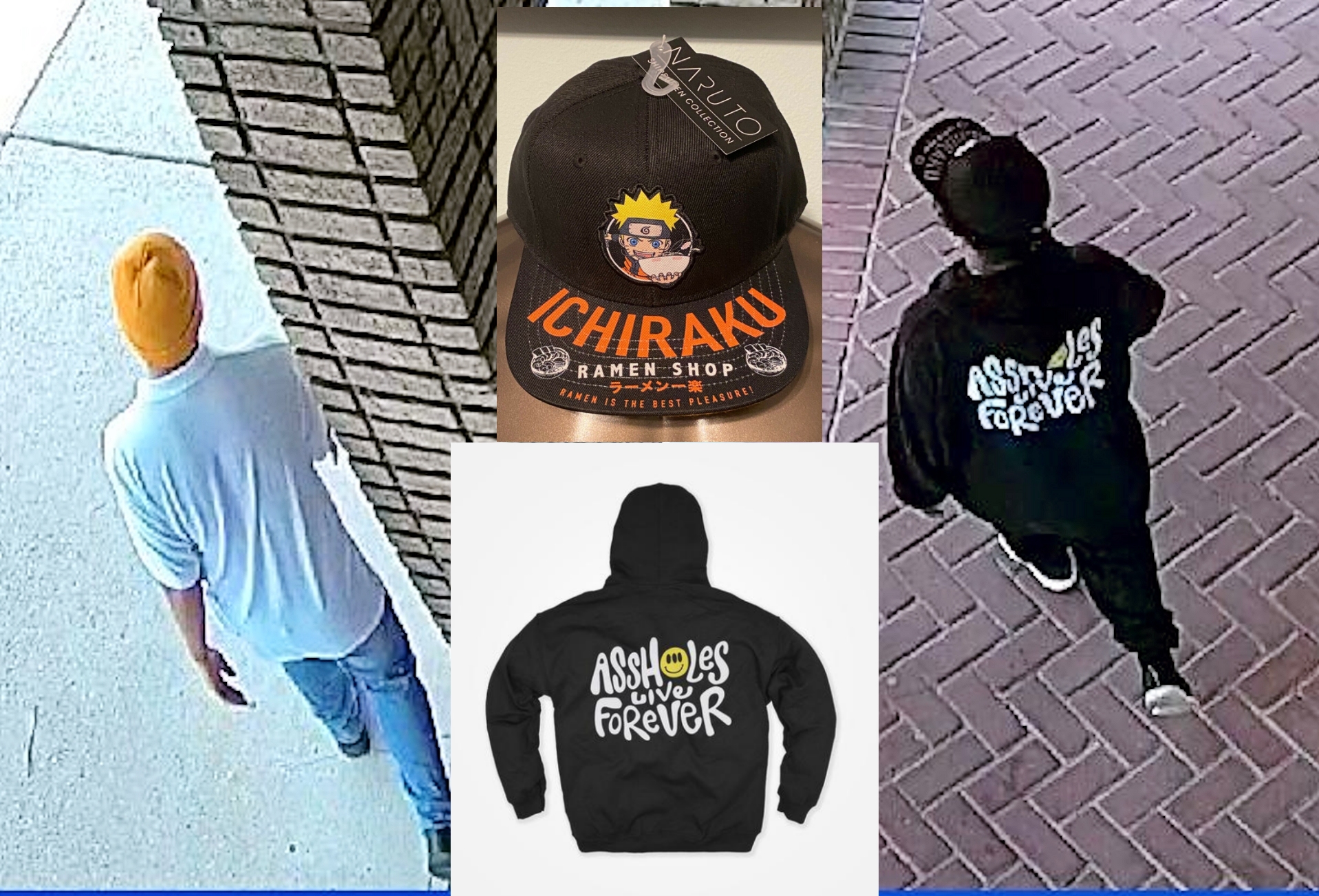 ---
Morris Plains Counterfeit Money
April 14, 2022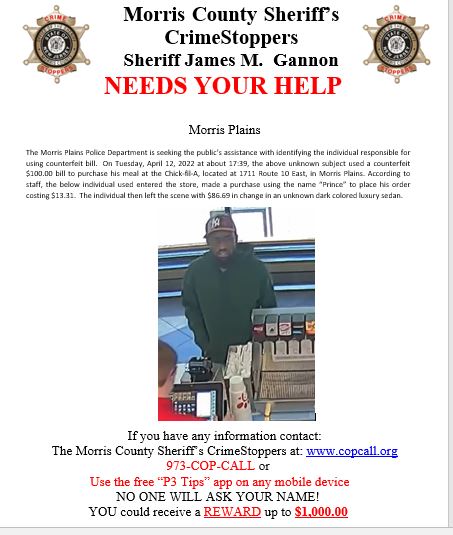 ---
Morris Plains Commercial Burglary
February 03, 2022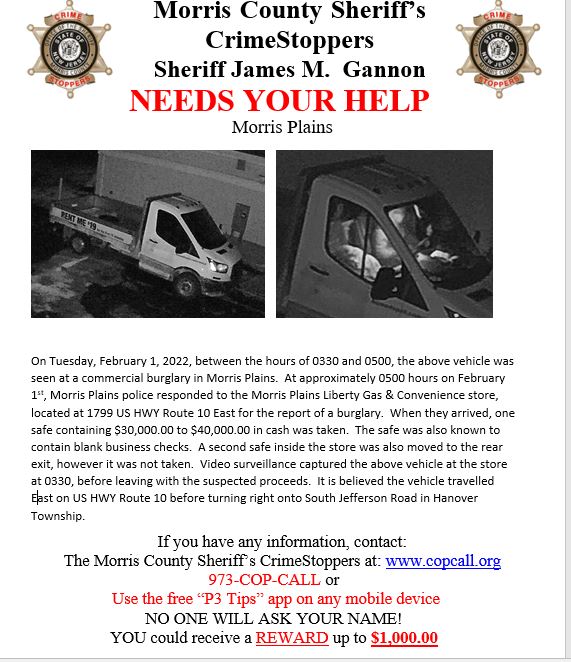 ---
Dover Assault
December 16, 2021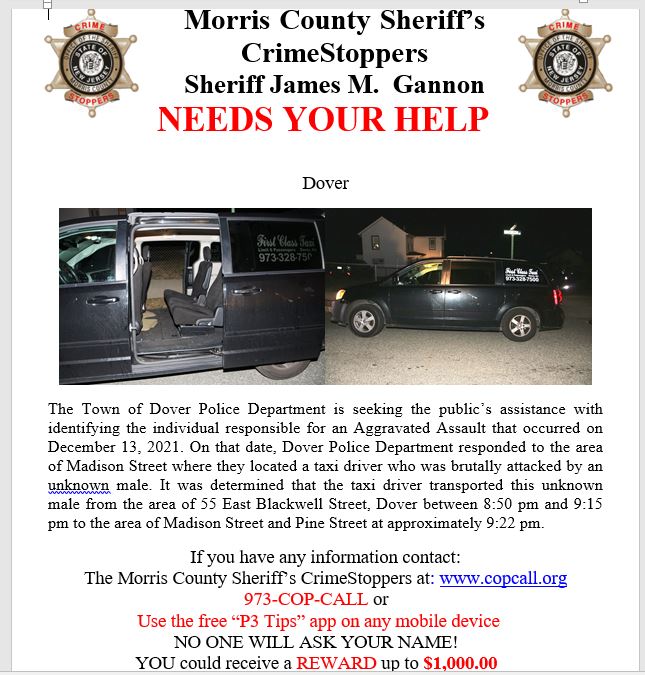 ---
Morris Plains Attempt to Identify
December 16, 2021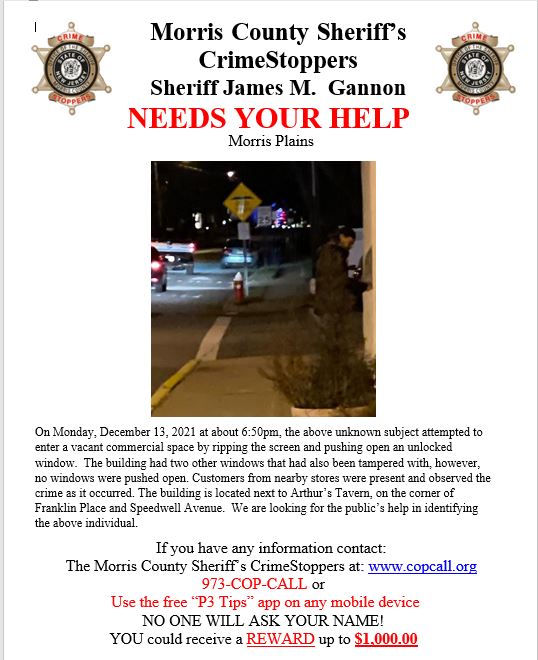 ---
Morris Plains Criminal Mischief
November 12, 2021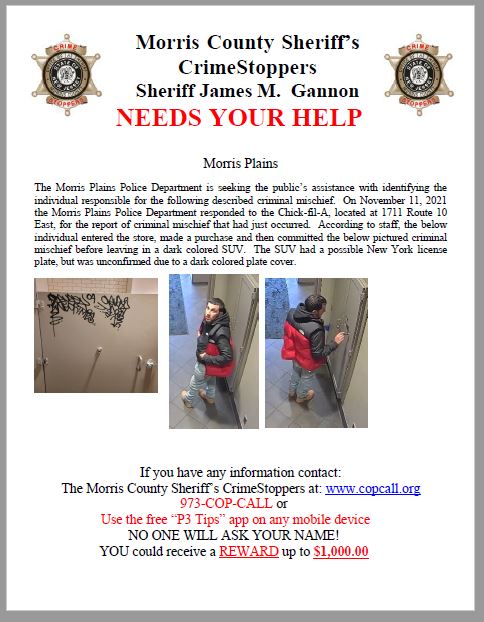 ---
Morris County Park Police Equipment Damage
October 21, 2021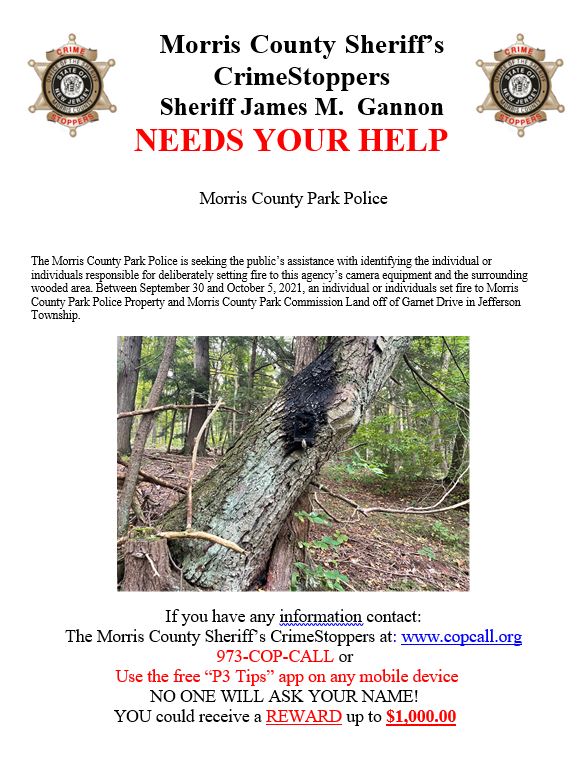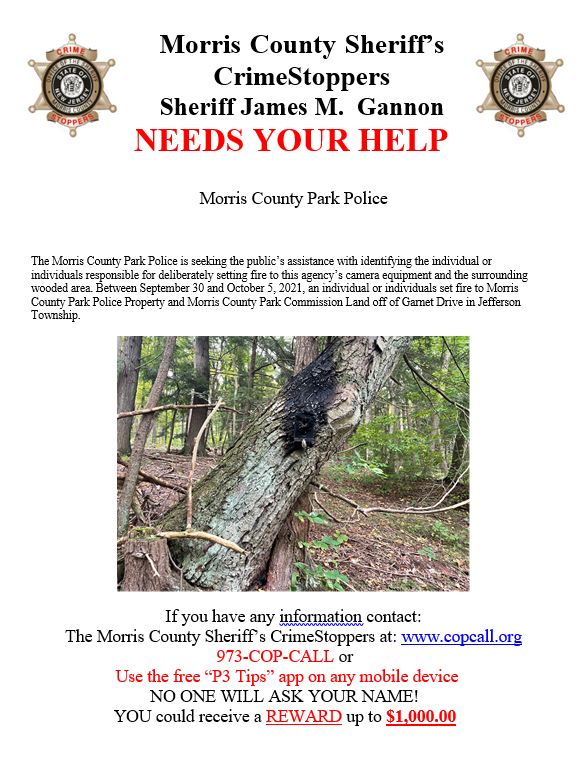 ---
Montville vandalism
October 18, 2021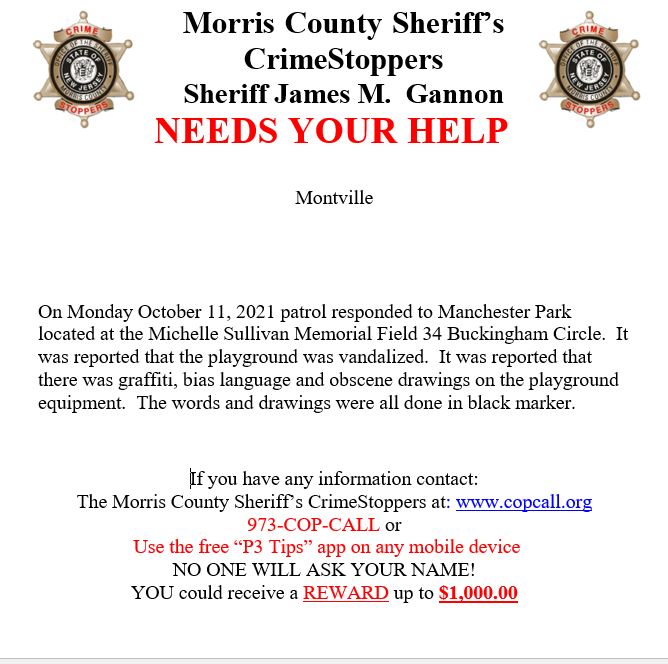 ---
Dover Criminal Mischief
October 12, 2021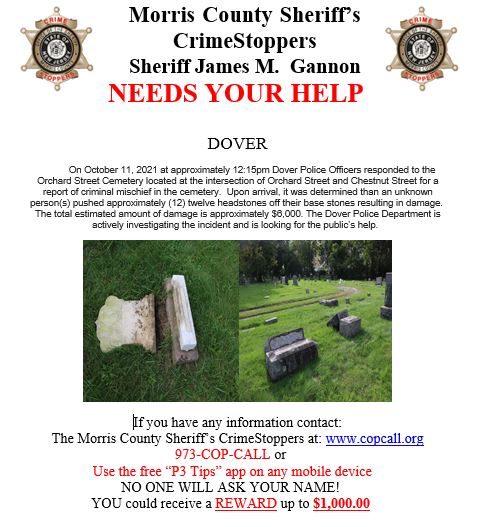 ---
East Hanover
August 16, 2021
---
Morris County Park Police Crime of the Week
June 03, 2021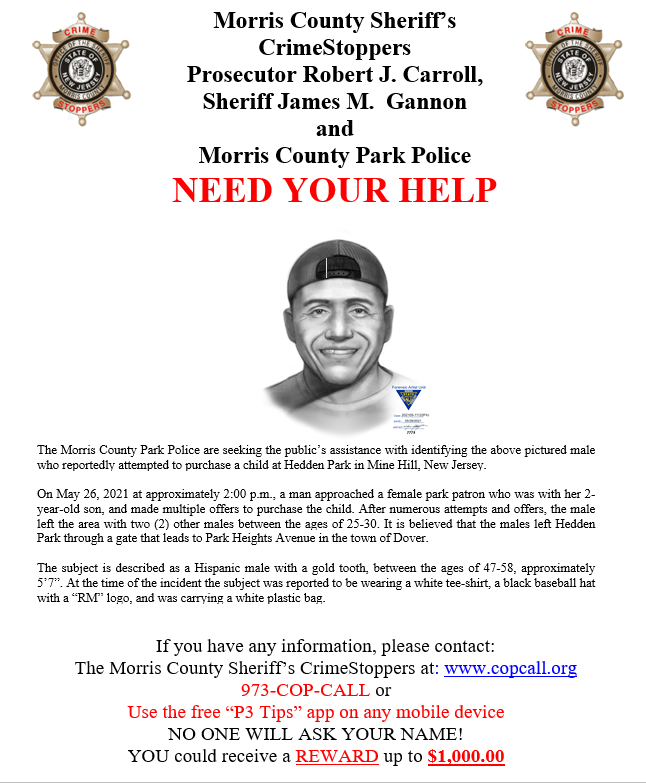 ---
Randolph Hit and Run
May 25, 2021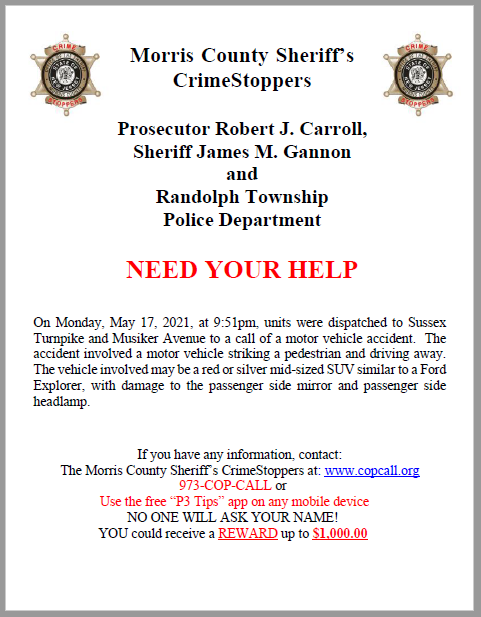 ---
Mount Olive Theft
March 03, 2021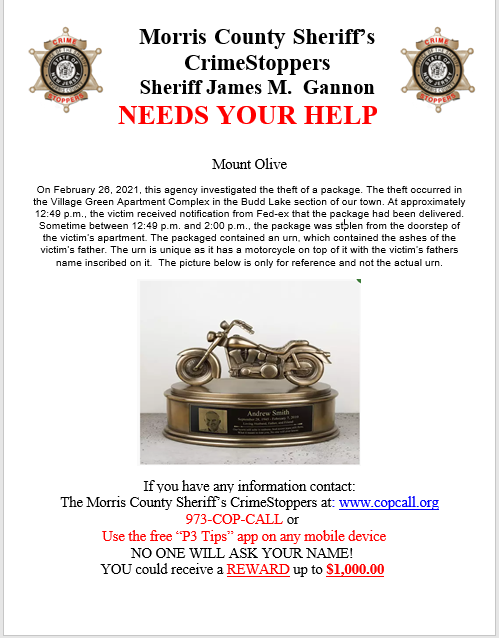 ---
Morris Township Concrete Crusher Theft
February 18, 2020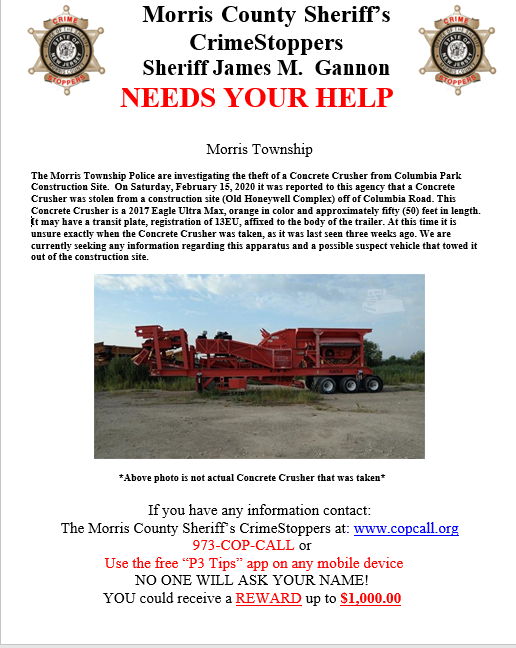 ---
Possible Criminal Mischief to Menorah
December 31, 2019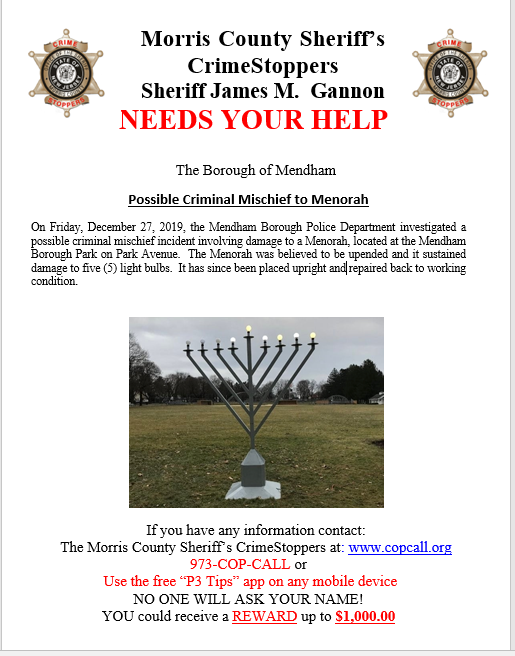 ---
| | | |
| --- | --- | --- |
| Page 1 of 3 | 46 Records | Prev | Next |